Products -> FOOD PROCESSING MACHINES -> Combinato tritacarne/grattugia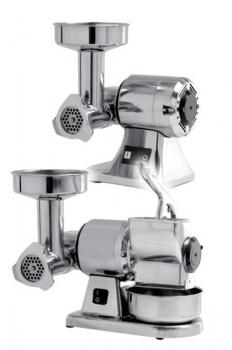 Suggested for semi-professional/domestic use (Mod.TG8S) or professional use (Mod.TG12S), indispensable for any restaurant, hotel, canteen. Die-cast polished aluminium structure, polished s/steel band on motor cover, motor equipped with thermal protection, detachable s/steel mincing unit, self-sharpening grid and knives, s/steel hopper and meat plate receiver, ABS pestle, steel ENP (Electroless Nickel Plating) treated grater roll, bread/cheese receiver plate, food grip lever safety micro switch, outlet mouth s/steel protection grid, low tension controls.

Optional: s/steel roll, tomato strainer/purée maker kit, 3 sausage stuffer funnels kit, reverse gear.