Products -> -> AF300GRSA-AF350GRA
AF300GRSA-AF350GRA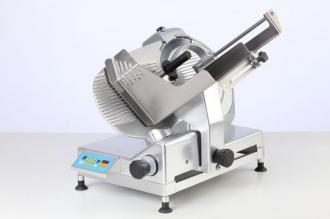 Automatic slicers, anodized cast aluminium alloy, easy to operate, great cutting performance and efficiency. Available in two different versions:
AF300 GR A: compact dimensions, recommended for small to medium-sized restaurants. Belt driven transmission, manual or automatic operation.
AF350 GR A: heavy-duty and recommended for a professional use, conceived for the large scale distribution. Gear driven transmission, equipped with two motors (one for the carriage movement and one for the blade rotation), big s/steel feed plate and food grip with border, carriage release device, forged and hardened steel blade, cast-in sharpener assembly, slice number setting with automatic stop feature (slice counter), 3 speed selection, 3 different adjustments for carriage movement.